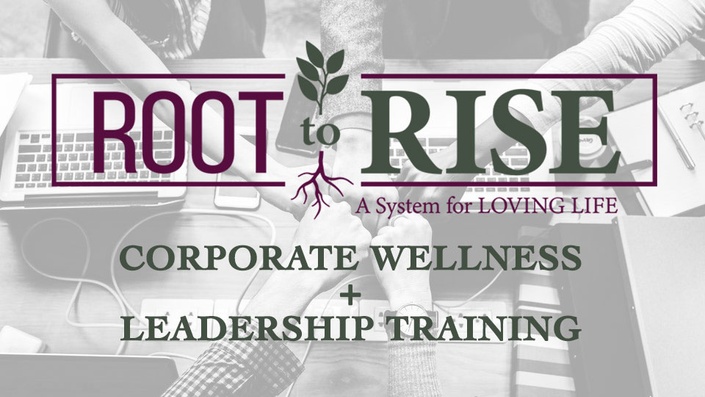 Root-to-Rise: Corporate Wellness & Leadership Coaching Program
Wellness - Leadership - Live/Work Balance - Life & Career Coaching
Watch Promo
Book Your Workshop
CREATING LEADERS

Successful companies start with strong foundations, and strong leaders are at the root of it. Through Career Root-to-Rise, you can strengthen your company's roots by helping your leaders build a company and career they truly love.
It starts with aligning your employees' life purpose with what the company stands for. Understanding how their role contributes to the success of the company will bring them day-to-day fulfillment and joy that comes from being part of something meaningful.
Meaningfulness occurs when people feel they're contributing to something bigger than themselves and it's one of the strongest predictors of employee engagement, motivation and commitment.
Career Root-to-Rise provides an insightful foundation for personal growth and wellness that weaves together yoga philosophy, human needs psychology, live/work balance evaluation tools, career coping skills, and numerous techniques that support your employees' rise to their fullest potential.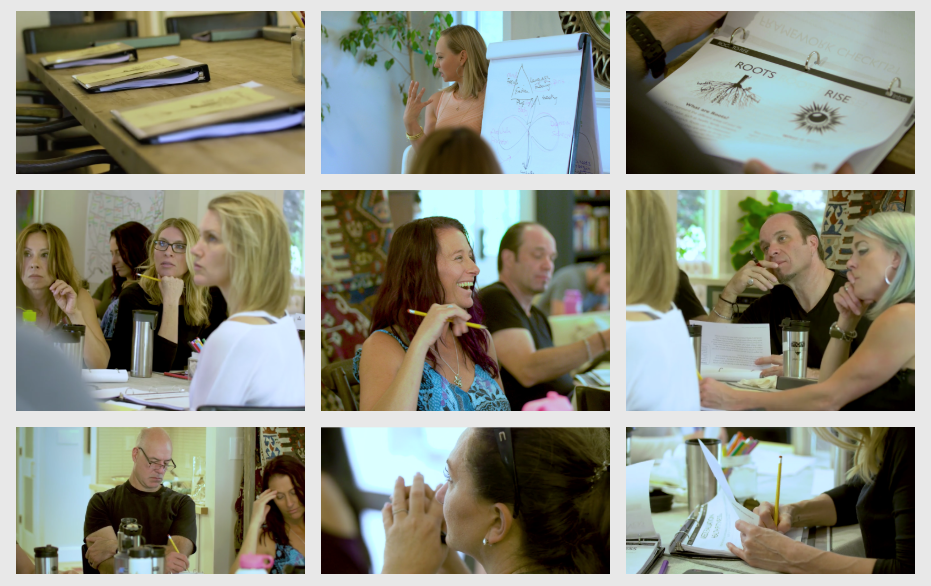 BENEFITING FROM A GROWTH MINDSET
Employees will benefit from:
Tools for creating live/work balance.
Tools for staying optimized during the work day.
Knowing the importance of their role within the company, and how to align their personal purpose with your company's mission.
Coping skills for dealing with stress and change.
Techniques for building confidence and unblocking limiting fears and beliefs so that they can step up as well-rounded leaders.
Vision work and action plans for achieving their short term and long term goals.
Your company will benefit from:
More employees aligned to the company's mission.
Improved job performance and production levels → more revenue.
Greater employee satisfaction and sense of belonging → longer employee retention rate.
Increased employee engagement and attendance.
More employees stepping up as brilliant and insightful leaders.
INCREASING EMPLOYEE CONTRIBUTION & SATISFACTION
Our program knocks down the walls of insecurities, uncertainties and indecisiveness, and leads directly into personal discoveries and empowerment. The goal is to inspire your employees to focus on transcending their own needs and contributing to their team and other groups in the company, as well out external customers, vendors and partners.
When Life Root Areas are acknowledged and evaluated, personal insights arise that lead a team member to achieve balance and gain a clear understanding of what their vision is for their role as a professional leader.
ADVANCING YOUR WORKFORCE
If you are suffering from turnover, unmotivated talent, reduced revenue, or a workforce that is disconnected to your company's mission, there is no time to lose.
With this training, your company can create a more rewarding workplace and a more profitable business!
Advance your workforce in the area of personal growth, so the entire company can experience the vital progress required to create a thriving organizational culture.
---
Be a leader that serves its workforce at the highest level!
Bring Root-to-Rise to your team to help build the most driven and purpose-filled company possible.
MONTHLY WORKSHOP PACKAGE

Real change takes conditioning new behaviors with consistent effort and persistence over time. Committing to a monthly program is the best way to effect real shifts in confidence, loyalty and engagement. This package includes a 4 hour session each month for a minimum group size of 20 people. Additional people can be added for $75 each. Pricing is based on a six month commitment.
TWO DAY WORKSHOP PACKAGE

Sometimes carving out time for a deep dive is what's needed for real change. This is a 2-day live workshop complete with workbooks that include effective exercises that bring about significant "a-ha moments. The package price of $6,940 US includes 20 people ($347/person), and additional people can be added for $347 each.
90-MINUTE TALK OPTION

A talk is a great way to introduce the concepts of the program and motivate people, especially as a kick off to a longer-form program. The cost of a 90-minute talk is $1297 US for whatever size group you wish to be included.
BOOK YOUR PROGRAM

Contact [email protected] or 650-464-5708 with any questions, to purchase admission for each additional person, and to schedule your workshop dates.

Please note: We conduct the workshop in your chosen workspace (i.e. office, retreat center, etc.) and travel from the San Francisco Bay Area. Long distance travel expenses are not included and a travel stipend will be negotiated on a case-by-case basis.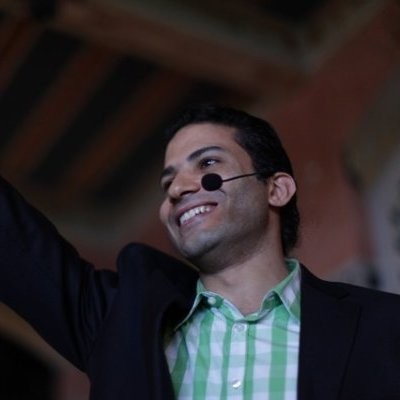 Chandra Lynn is one of the most professional, authentic and passionate experts I know! After an eventful career sharing her unique expertise with some of the top companies in the world, artists and celebrities, she decided to share the best of the best strategies of personal and career development with the world through a training program called Root-to-Rise. This is one of the trainings I know that over-delivers with more tools, understandings, and strategies than it promises! Her newsletters are not just another email coming into your inbox. One of Chandra's messages can and will change your life for the better. Follow her, enjoy her unique and rich content, and enjoy learning from her!
- Ayman Mahmoud, Chairman of The International Center for Coaching & Research, Inc. & TED Translator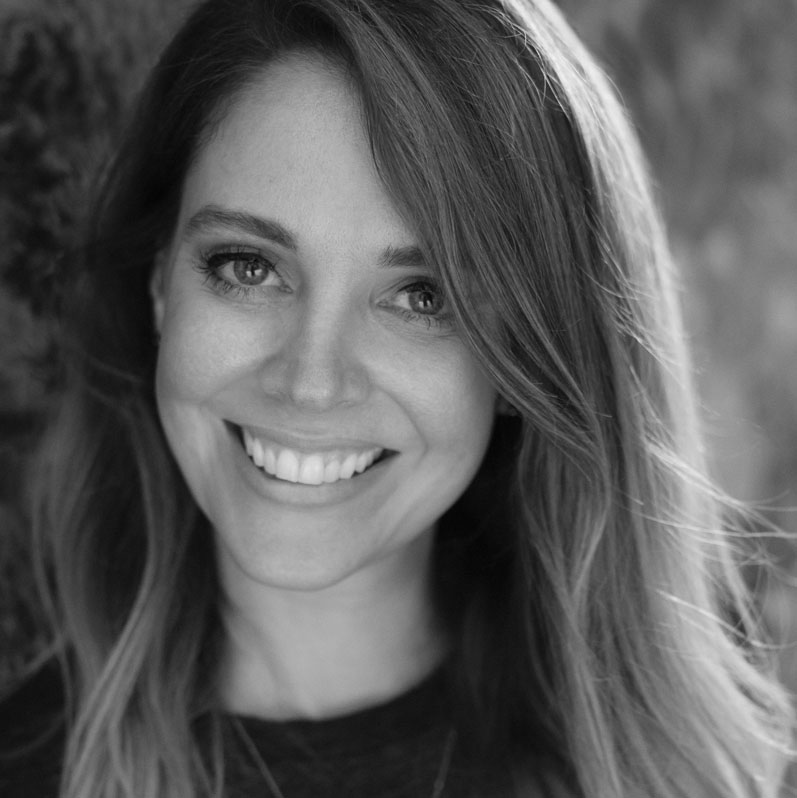 "Chandra is an excellent trainer and coach to those looking to thrive in their professional and personal lives. Her genuine love for helping clients comes through in her commitment to excellence, delivering results, and creating a transformative experience in each of her programs. Chandra has a unique ability to clearly see the root cause of a block or barrier, then she not only shows her clients what's possible in their lives, but she also empowers them to bring their dreams into reality with her compelling strategies, tools, and resources. Perhaps it's Chandra's extensive experience in strategic marketing that allows her to recognize "the big idea" around what's really happening – and then put language around it – as she's created her coaching programs, but she's seamlessly incorporated her results-focused marketing work into her coaching career making her uniquely effective at what she does."
- Ginny Townsend, Founder, Vanity Plate Consulting & GinnyTownsend.com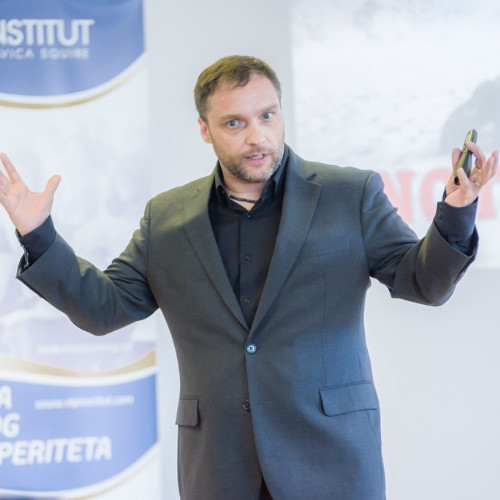 "If you haven't had the experience of learning from Chandra, do yourself a favor and make it happen. She has a way of showing you where you are thinking inside the box, and then more importantly showing you how to get out of it. I would recommend her again and again."
- Steven Twohig, Senior Business Strategist, Game Changer and Business Advisor for The Anthony Robbins Companies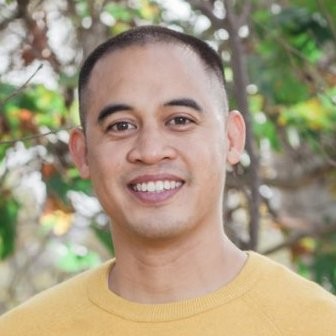 There are very few people that I know who are as incredibly well-rounded as Chandra is. She is intelligent, creative and personable with a very positive outlook on things. I can truly say that I would not be where I am today had it not been for Chandra's professional guidance, mentorship and genuine friendship.
- Reinel Adajar, Senior Brand Manager, Wente Family Estates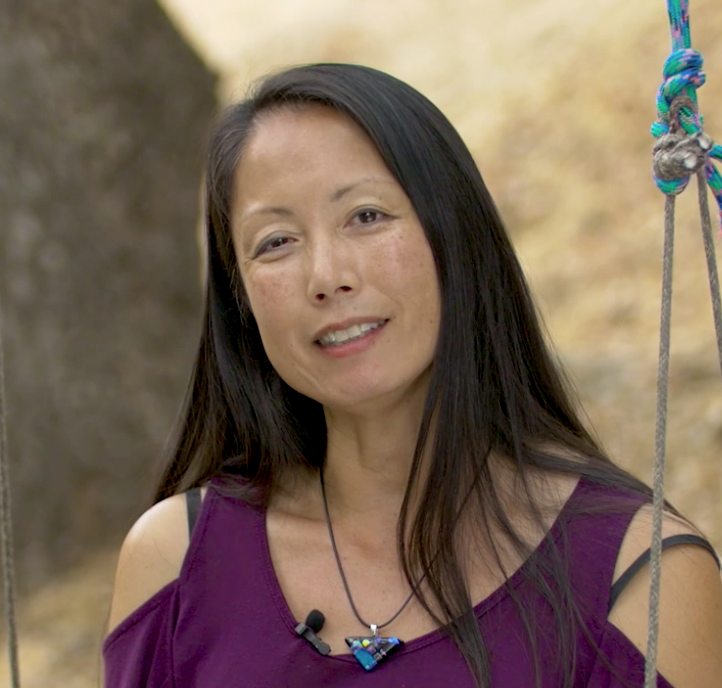 "It was difficult work doing all that self-reflection, but she really opened my eyes up to a lot of things I need to work on in my life; things I'd never really thought of before being at this point mid-life, balancing career with family and where I want to go in the future."
- Sheri Yee, Producer, KSFO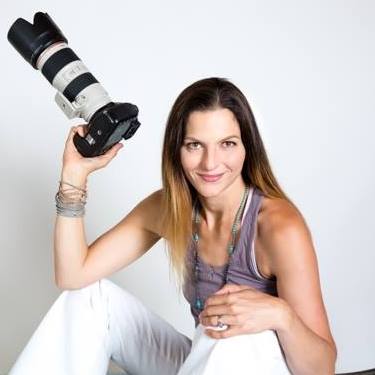 "This really resonated with me...like how do I show up in this world, and what's important to me, and in my career?"
- Suzette Hibble, Founder, SHE Photography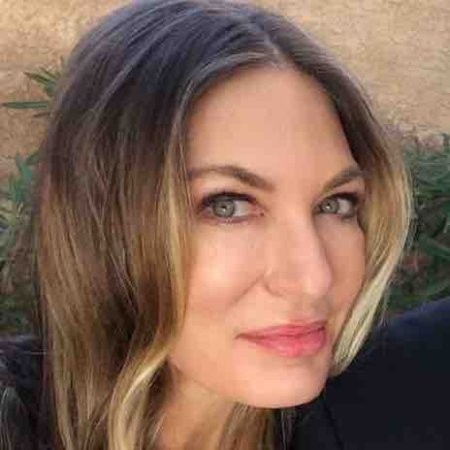 "This is really profound, powerful work! It allows us to rise to our greatest potential. It was amazing!"
- Maria Poole, Training Manager, Topix Pharmaceuticals, Inc.
Your Instructor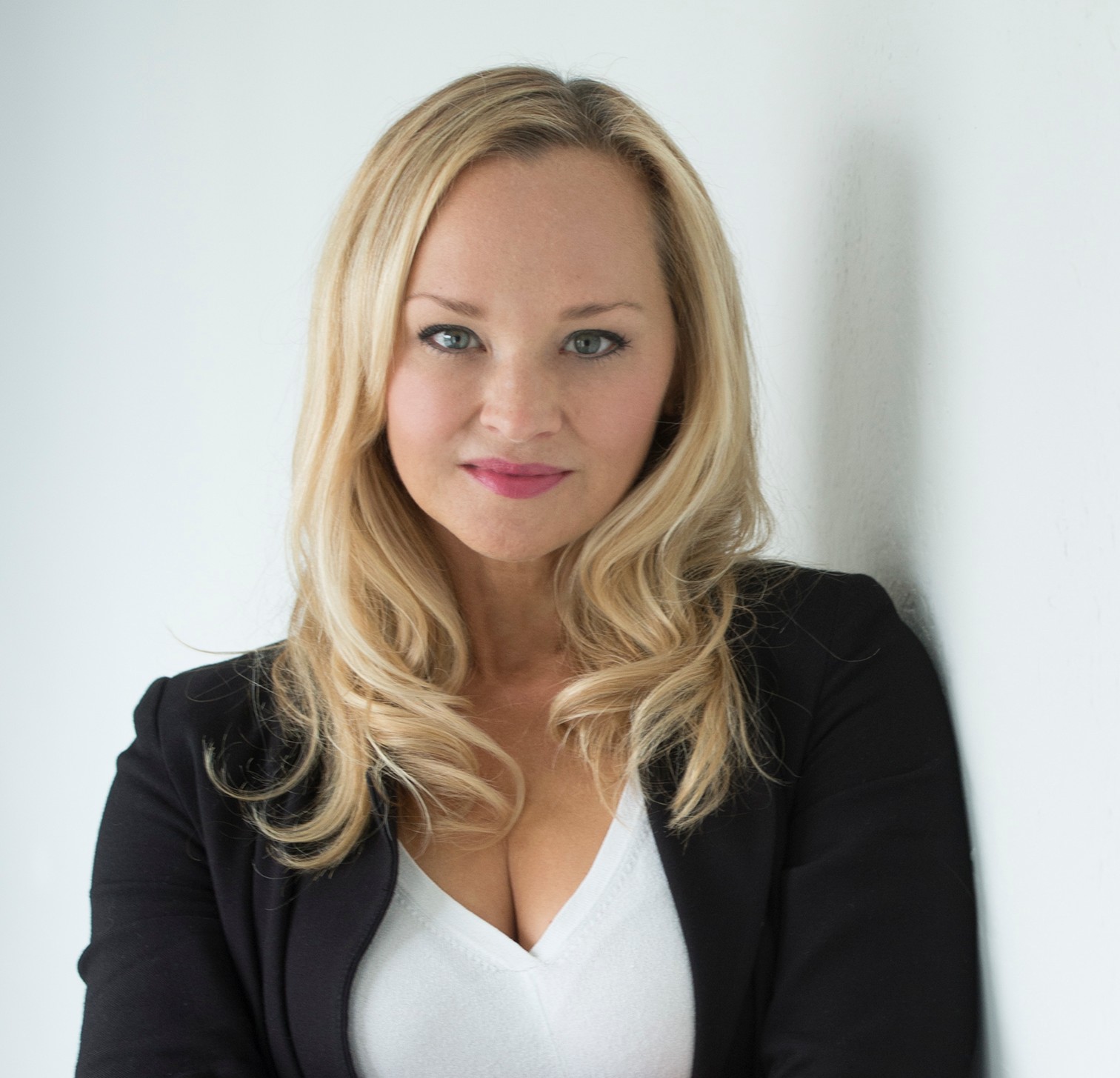 Chandra Lynn inspires people to love life.
As a transformational coach and the founder of GlowLiving.com, she guides anyone seeking impactful ways to achieve new levels of personal and professional success.
A San Francisco Bay Area native, she spent the first 25 years of her career as a marketing expert and founder of Glow Marketing LLC, serving clients such as Apple, smart car/Mercedes, Avid, Super Model/TV Host Tyra Banks, and many others.
Now she is also using her experience and coaching certification from Robbins-Madanes Center for Strategic Intervention to support people through GlowLiving.com and her signature training program, Root-to-Rise, for personal growth and healthy living.
Root-to-Rise offers a perfectly-aligned framework that allows people to strengthen the roots that provide them with security and life balance so that they can rise to their fullest potential and live a life they love. It is open to people of all ages, genders, races, religions and perspectives.
She also the co-creator of Own Your Throne, an online women's circle offering nature-based wisdom for empowerment.
For more information on these programs as well as personal coaching, group mentoring sessions, and public speaking, please visit www.chandralynn.com.